24K Gold Eye Mask
'' My eyes literally looked bright my tired eyes were gone ''
by Katrina Z 
instant energy boost for your tired eyes
De-puff, brighten, & fade out fine lines in the most luxurious way possible, 15 minutes max.  
Whether you pulled an all nighter, partied til dawn, or your baby kept you up all evening, find zero traces of fatigue on your eyes when you patch with the 24k Gold Eye Mask. We swear, it's like the strongest energy drink for your under eye. 
GOLD
Luxurious, age defying ingredient
The jet setter & beauty buff in you will rejoice! Stash packets of eye masks in your carry on and never have tired eyes no matter where you are in the world.
Multi Tasking Under Eye Fix
24k GOLD EYE MASKS ENDS YOUR DILEMMAS ON YOUR UNDER EYES
Why purchase 5 different products for 5 different problems when you can fix the problems with just one product? This multi tasking eye masks is infused with real 24k Gold particles that fades away fine lines, plump tired eyes, brighten & hydrate under eyes. Now that's what you call multi-tasking in the most luxurious way!
Ultimate energy boost for your tired skin & problematic under eyes
You are super woman, you have alot going. we got you, so worry less. 24K eye mask hande any under problem for you.
We created this products having you in mind. We know you have a lot on your plate and you are always on the go.
With the 24k Gold Eye Mask, you can maximize 15 minutes of your day solving your under eye problems whilst carrying on with your daily routine & errands.
To make the most out of this product, place it in the refrigerator and chill it before use. Patch it under your eyes and proceed with your to-do's for the day.
Remember, It only takes maximum 15 minutes to pamper your under eyes. No need to go beyond that! This product was made considering our furry friends as well. We at Dermora believes that there is no need to hurt animals to create powerful products. High quality & safe ingredients already does the trick.
Image with text
Image with text
Pair large text with an image to give focus to your chosen product, collection, or blog post. Add details on availability, style, or even provide a review.
What are people saying about Dermora?
Customer Reviews
The most amazing eye mask!
I used the eye masks for the first time last night. Even after just one time, I've already seen a small difference! I'm always hesitant to try new skincare products because I have extremely sensitive skin, but after reading a bunch of reviews, I decided to give them a shot. I'm trying to figure out what skincare routine I would like to start before my BFF's wedding in the fall. I naturally have dark circles under my eyes and VERY pale skin. I put these masks in the fridge before wearing them, which feels fantastic when I put them on my face. They were a bit difficult to get out of the packaging because they're slimy from the serum. Surprisingly they stayed on my face without sliding off. They are pretty comfortable, didn't even notice they were there after a few minutes. I left them on for maybe a little over half an hour. I think with consistent use, I will see more improvements! Excited to keep using these! ??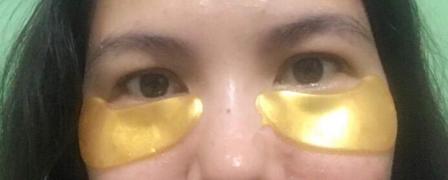 01/06/2019
ReviewMistress
Good for Undereye Wrinkles and Headache Relief
I'm 48 year old with fair skin. I deal with under eye puffiness and under eye wrinkles, especially when I smile. I don't have much issue with dark circles or crows feet. I tested these without putting them in the fridge since applying anything cold under the eyes will reduce puffiness. This way I could test the product on its merits alone. I left them on 25 minutes, then let the area dry after removal as per instructions.I noticed some differences in the wrinkles for sure but not puffiness. My before and after pictures were taken in the same pose and unflattering downward lighting so I could really see the worst of it. Pictures were of me with closed mouth grin and smiling (right). Top pic in both were the before pics. You can definitely see the difference in lines in the non grin version.I also used these after refrigeration and the impact in puffiness was substantial which I would give an additional 1/2 star if amazon allowed. I won't give a full star because I still believe that cold cucumbers would probably do the same thing. Cold naturally reduces swelling.UPDATE: I've discovered a secondary use for these masks... headache and migraine relief. The coldness helps reduce my pain!!! Also good for hangover relief. After a big celebration, my husband and I felt Terrible the next morning. I put a set of these on him, despite his protests, and he LOVED the effect. He felt immediate relief and said the masks "must be hitting a pressure point because I feel it helping my whole head."
They work!!!!!!!!!!!!!!!!!! :)
They are a beautiful gold and the work wonderful. I love them and when I am close to running out of them, I will order another box ASAP.Thank you so much for a great product :)
You can tell the difference
I was always using eye cream, and honestly, didn't see a big difference for a while. This was my first experience with the eye patches and I am really impressed! I have puffiness and wrinkles under my eyes, after applying those patches for about 25 minutes, you can definitely tell the difference! I have used it as instructed after 1 hour in the fridge and it felt pretty comfortable. Like this product a lot so far.
Works really well!
That's from my husband- i'm a happily married man in my mid-forties. My wife had suggested I give these Amora Natural Gold Eye Masks a try because I have always taken care of my skin, but recently I have noticed that under my eyes they are puffy with dark circles. I have tried several different masks, but none of them have worked like these ones! The puffiness started to go down and the dark circles are disappearing. My wife and I started with one box, and were so impressed with the results that we ordered our second one! We put these in the refrigerator before we put them on in the evening and I just love to cool, refreshing feeling every time. I am absolutely loving these Amora Natural Gold Eye Masks and would recommend to any of my male friends that talk about the dark circles under their eyes.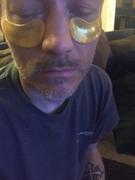 Amazing mask!!!
I have very sensitive skin and have always had a problem with break-outs. I have tried other eye masks to help remove the dark circles from under my eyes but they always made me break out. My friend pointed me to the Amora Natural Gold Eye Masks because they have been working so well for her. I have to say, I was a little scared at first! I am loving these eye masks and I am so thankful for my friend sharing them with me. I have seen amazing results and my face hasnt breaking out! I will be sharing these eye masks with all of my friends!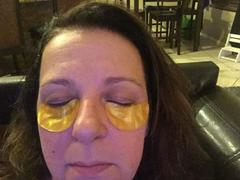 SO SOOTHING
These eye masks were so soothing and relaxing! The product was packaged so nicely and if you pop them in the freezer its like a little spa day!